Back on October 20th I posted about this beautiful intelligent young lady and her new book.  That was around the same time I pre-ordered it.  I knew back then that this book deserved attention and support, and the reception has only further proved that.  Just read some of this, in reaction to "Sex with Shakespeare!"
https://www.bookish.com/articles/this-weeks-hottest-releases-april-24-april-30/
"You haven't read Shakespeare quite like this before. In this memoir, Jillian Keenan writes about her own fetish (spanking) as an entry point through which to examine the works of William Shakespeare. Along the way, she vividly recounts the tales of her own experiences with kink and love, and explains what the Bard's plays have meant to her personally. You'll laugh, you'll blush, and you'll never see Shakespeare quite the same way again—and we're pretty sure you'll also fall in love with Keenan's candor and wit. We also think this is the perfect way to celebrate the 400th
http://www.avclub.com/review/sex-love-kink-spanking-fetish-pain-sex-shakespeare-234903
"Most enjoyable for the Shakespeare fan is when she brings the plays she's studying off the page to have conversations with key characters, often at times of personal crisis."
"Keenan doesn't shy away from the unsavory aspects of her fetish, namely that it can be viewed as a form of eroticized violence. She examines, in her words, "our fetish's most challenging details: its intersections with misogyny and heteronormativity; its relationship to child abuse and spousal battery; its place within the broader BDSM community; its comparison to self-mutilation." How can Keenan be a feminist and want to get violently spanked? It's here that culture at large might be most unforgiving, still wrapped up in unhelpful reductive understanding about sex and desire. What's abuse to one person is another person's fetish, a core part of her identity and not something she can change about herself. Understanding a fetish—which is an outcome of reading Sex With Shakespeare—gently forces the reader to navigate their own understanding of sex and identity. It's a powerful tool in the growing arsenal of identity acceptance.nniversary of the Bard's death."
This from Harper Collins:
"An English major's dream!"
Library Journal:
"An English major's dream!…You may have studied Shakespeare in high school, but it's almost guaranteed that your literary analysis wasn't anything like this…The connection to Shakespeare is a fascinating foil for Keenan's life…[Her] writing is clear, relatable, and steady, even when conveying painful events in her past."
Bustle.com:
"Jillian Keenan reveals how the revered playwright helped her come to terms with her sexual identity. Full of humor, her memoir explores the lessons she learned from the Bard, ranging from fetish to communication to love."
Here's an excellent Q&A with Jillian.
http://www.refinery29.com/2016/04/109190/sex-with-shakespeare-book
Here's the beautiful girl herself!
My personal favorite line from that video is: 
"If there was room for me in Shakespeare's world then maybe there was room for me in my own world too."
If all that isn't enough here are some emails she has received from readers.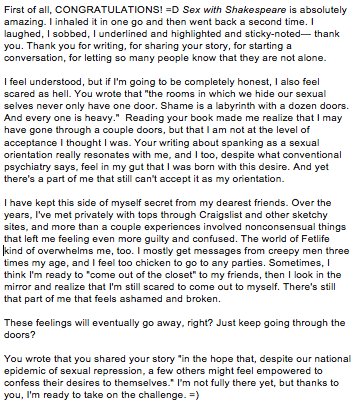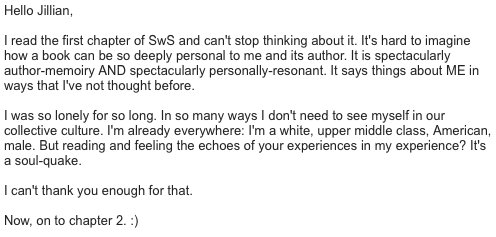 Jillian has never been shy about sharing her opinions and as you can see not shy about her kink either.  Whether I agree or disagree with her, I always come away thinking that she has definitely done her homework.  At the very least I will understand how she formed her opinion.  It can't be said enough how brave she is.  I got this remarkable fact from one of her interviews: "As far as I know, there are only two people right now that are writing about this fetish under our real names."   Every time I read that I can't help thinking WOW.  Just proves even further that anyone with this kink should have a deep appreciation for her.
I will be sure to post my thoughts once I have read the book!